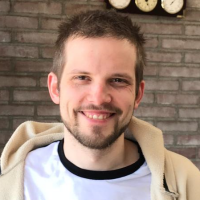 I am a driven, inquisitive all-round web developer with a clearly noticeable passion for the field. From a very young age I have been continuously involved with IT; first hobby-wise and later professionally. Since 2013 I have also been working as a trainer in web development, both at various companies and independently.
Web development is a field of work where technological advancements take place at lightning speed. It is not without reason that the internet is filled with countless examples of outdated code with "bad practices". On top of that the demand from the labour market is constantly shifting as well. New technologies and products replace old ways of working.
As an educator, I therefore find it to be of the utmost importance that I provide students with the most relevant, up-to-date knowledge and skills as possible. In most cases I use self-developed and maintained teaching materials so that I can respond immediately to developments in the field.
In my career I have already worked with a wide variety of students. Firstly, I provided trainings to individuals of all ages who were looking for a web development course to make a career switch or professionals who wanted to brush up their knowledge.
Secondly, I have a lot of experience with coaching and educating (young) adults with some distance to the labour market. Consider, for example, students with ASD, AD(H)D or an auditory or physical disability. It gives me great satisfaction to make a positive contribution to the development of people within this vulnerable target group and to get them (back) into society in a structural manner.
Finally, I have also instructed people who simply wanted to learn to build a professional website by themselves.